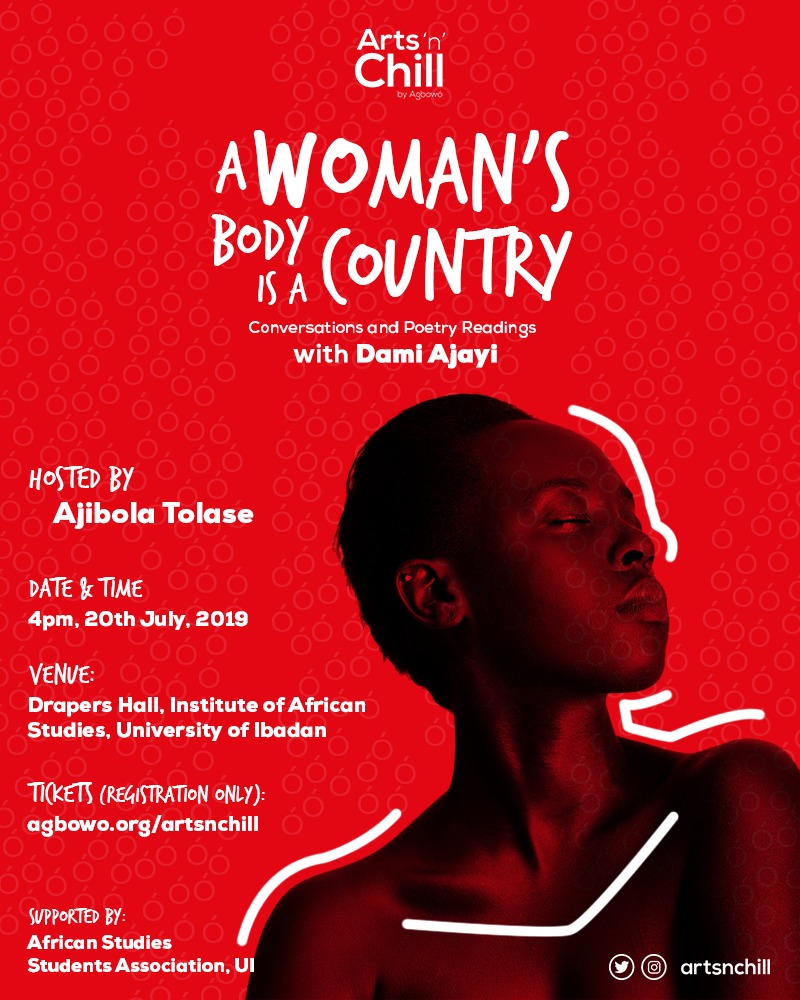 A Woman's Body is A Country - Conversations and Poetry Readings with Dami Ajayi
In a news article for This is Africa in October 2017, Socrates Mbamalu called Dami Àjàyí's A Woman's body is a Country Africa's most anticipated poetry collection – and he wasn't wrong. The buzz around Àjàyí's sophomore collection was generated from a cocktail of the sensational title of the volume, the distinctive cover by Ehikhamenor, the Okigbo-esque author's photo and, most importantly, the brilliance of his first collection – Clinical Blues.  A Woman's body is a Country was published by Ouida Books to numerous plaudits and favorable reviews. In May 2019, it was shortlisted for the Glenna Luschei Prize for African Poetry continuing in the illustrious path of the earlier collection which was shortlisted for Melita Hume Prize in 2012, longlisted for the Erbacce Poetry Prize in the same year and longlisted for the Wole Soyinka Prize for Literature in Africa in 2018. For the poet and academic, Harry Garuba, "A Woman's Body is a Country is a work of impressive artistry. The power of these poems lies in their ability to transform ordinary everyday phenomena into memorable, lyrical nuggets of experience. Dami Ajayi is a very exciting new voice, not just in Nigerian poetry but for the world." For the poet and novelist, Jumoke Verissimo, "Dami Ajayi journeys into emotional borders that reveal the burdens of transitions, offering us lyrical poetry that reinvents perspectives. Here is the poetry of the quotidian, a philosophic and profound interrogation of relationships, of words, of bodies and their burdens, of times and time. There is poetry here, and it breathes." On July 20th, ArtsnChill by Agbowo will, with the support of the African Studies Students' Association, have the honour of hosting a reading and conversation around A Woman's Body is a Country. Dami Àjàyí will read from his collection, and be in conversation with the Writer and Editor, Ajibola Tolase. There will also be poetry readings and spoken word performances from a slew of other poets in attendance. The venue for the event is the Institute of African Studies' Drapers Hall. Seats are limited and can be reserved 
here
.
About Arts 'n' Chill by Agbowó
Art Events. Art Workshops. African Art 
Arts 'n' Chill by Agbowó is an events platform for creative Africans to share their works, get feedback and reach live audiences. 
Through Arts 'n' Chill by Agbowó, we are providing spaces where creative Africans come alive to propagate new ideas, extend their freedom and enrich the lives of people to enjoy art. We are building a community that supports and enhances the work of creative Africans. 
Follow @artsnchill on Twitter and Instagram to stay up to date on our events.   
Visit our main page at Agbowó.org to view new literary works around Africa as well as our yearly lit + art magazine.