The sun scorched a little too hot that afternoon and Ivie found herself wishing there was some kind of control knob so she could turn it down. She had just waved a served car off. As the next one in line approached, she peeled off her beret and wiped it over her face. The driver rolled down his window and flashed a bony smile. Ivie took no notice. She dropped the beret on the fuel dispenser and unhooked the nozzle; twisting open his fuel tank and poking the nozzle into it.
'No be everyday person dey see woman wey shave her head come still fine like this o,' the driver commented, still smiling.
Ivie smiled back, keeping her eyes on the running fuel meter. 
'I swear, I dey tell you. You just resemble Oby; Madam Due-Process. You sabi her?'
Ivie shook her head.
'Oby Ezekwesili. The only difference na say you fine pass her.'
'Thank you.' She said with a much wider smile. The meter had come to a stop and she was withdrawing the nozzle from his fuel tank.
He produced a wad of naira notes from his pocket and split it in half. Without counting, he pushed one half through the window at her. Still smiling, she took the generous bunch and found his card sitting on top: Papilo Izamoje, Pastor, Na God Sure Pass Ministries.
'Call me Papi. My fuel money na 3k shey? The rest na your own. Control me ehn, make we rub mind…'
A car horn tore into the air from behind. The driver could see the sluggish exchange and wasn't happy to be kept waiting on the queue.
Papi's sleek Honda drove off as Ivie shouted back at the honking driver. 'Oga calm down o, nobody go sleep here!'
She took her time to count the notes in her hand before attending to the next customer.
~
On her way from work that night, Ivie stopped by an MTN umbrella to top up her phone, then she reached for the business card she received earlier and thumped in the number on it. After a brief call, she returned the card into her back-pocket and stopped an Okada. She gave the rider an address and off they went.
Around midnight, she fumbled with the lock on her door, wishing she hadn't made the call and hadn't gone to meet Papi where he asked her to come to. She had been hoping she could take him seriously, but after he could neither keep his hands off her body nor stop asking her to come upstairs to his hotel room, she told herself he wasn't worth it.
She tossed and turned on her flattened mattress, willing herself to sleep so she won't wake up late for work in the morning. Despite dumping her work clothes and taking a long shower, the smell of petrol climbed into bed with her.
When an hour later she found herself still awake, she got up and folded a wrapper across her chest. She rummaged through her bag for a pack of cigarette and a lighter, then moved across the dimly-lit room to the window. She threw it open, settled into the window-space and burned the end of the cigarette stick sitting between her lips.
~
Papi called close to fifty times over the next five days. She since deleted his number but had come to know it offhand. Then one night after she closed from work, she noticed an envelope icon on her phone screen and pressed to see the message. It was from him: 'I get correct job offer for you. My business partner dey around from Italy. We fit meet together today if you dey interested. Holla make I know.'
She sucked her teeth in irritation and threw the phone down her bag. After a few minutes walk, she was standing in a potholed hallway with several rooms on both sides, fumbling with her lock. A neighbour came out from an adjacent door and Ivie could already tell she had been waiting to hear her at the door.
'Babe how nau? The Landlord came o,' the neighbour said; hitting the hair-stuffed net on her head lightly as she spoke.
'Eh ehn,' Ivie said without looking back, her heart starting to race at the mention of the landlord. 'What did he say?'
'He said I should give you this.' The neighbour ventured forward, an outstretched hand holding a brown envelope to Ivie.
Ivie turned around and took it off her hand, still avoiding her gaze. 'Thank you,' she said, before kicking her door in and leaving the neighbour standing there.
She stood still with the door closed behind her for a few seconds, waiting until she heard the neighbour's door close before carefully making her way to her rechargeable lamp and switching it on to brighten the dark space. She tore open the letter and ran her eyes over it to confirm her fears. The landlord didn't want the rent she owed anymore, but she had just two weeks to move out voluntarily or get thrown out.
The neighbour who gave her the letter had warned her this was coming. 'All you have to do is let him fuck, my dear,' she had said. 'Me I haven't been paying for over a year o. I just let him do and my shelter is assured, I tell you.'
She sunk onto her bed and held her clean-shaven head in her palms, frustrated at the options before her. She juggled her thoughts for a while, then she produced her phone from inside her bag and dialled Papi's number. Some minutes later, she was flagging down a bike, again heading to an address dictated by him.
~
Ivie met Madam Agnes' husky voice before she met the woman herself. It streamed through the wall from the next room to the one Ivie waited in. She was convinced it was a man's voice until Madam Agnes appeared with Papi, looking smallish and unfitting. 
The meeting was short and straight to the point. The woman would sponsor her to Italy where she would work until she could repay the debt, then she could go on to work for herself. 
Even the deaf and the dumb in Benin-City knew about Italy runz—girls selling sex for Euros in Italy—but having met this woman through a pastor, albeit one who wanted to sleep with her, Ivie tried to convince herself that 'work' in this context meant just that. She pretended not to notice that the woman's eyes kept roving over her slim frame, resting especially on her poky breasts and curvy ass. Her joy and excitement at the news of traveling abroad blurred the lines, and she didn't dare ask for clarity so as not to ruin the fairy-tale.
The next four months raced so fast, seeing her resign from her job, move in with Madam Agnes in her lavish mansion, get a passport done and begin to process her papers, resist more advances from Papi, and at the end, touchdown in summer-time Milan. 
Shadowy thoughts of what she was getting into lurked at the back of her mind the entire time, growing bigger and harder to ignore as the days rushed by. Sometimes she would stop and ask herself if she was sure she wanted this, then she would remind herself of the alternative—working jobs that paid just about enough to feed; shaking off unwanted advances that her situation would sometimes make to appear too attractive or beneficial to turn down.
On the eve of her departure, the thoughts emerged in full force and questioned her through the night and all the way to the airport the morning after. So you're going to do ashawo work ehn? Ashawo that you did not do in Nigeria? Men will now come and sleep with you for money? Because of money, you're throwing all your morals away ehn; money that you will not even see? Why did you not just take Papi's money and rest? What if you contract HIV? God forbid! But wait o, it's work they called it nau; work, not ashawo work. It's work, you're overthinking it!
The illusions quickly cleared on the first night when Madam Agnes' partners came in for inspection. Ivie was asked to shower and join a dozen other girls on a straight line, then they were told to undress and turn around one after the other. An old, scruffy-looking man among the partners cupped a handful of Ivie's breast and squeezed. 'Soft,' he said, nodding to Madam Agnes.
When it was all over, Ivie shut her bedroom door behind her, still naked, and crumbled into a heap to weep like she was bereaved. She had never felt so violated. Even though the man was gone, her breast still felt like it was groped by a gummy, tar-stained hand. She thought of the advances from her ex-landlord, from Papi, and from other customers at the fuel station. She cried even harder; at least then, she had the choice to say no.
Later that night, the intercom buzzed to invite her to dinner with the rest of the girls. She was going to decline but was quickly told it was an order, not a request. By the time she was back in the room to sleep, she was convinced she had woken up in a bad dream. She met girls who had been working for two to three years, some four, yet to fully offset their debts to their pimp. Like her, they were made to swear blood oaths and surrender their passports. 
Maybe we too will get lucky, a customer falls in love and pays off our debts, some said. 
They wore this statement like helmets, their armour being the story of a girl who had a soccer player so in love that he paid off her debt, married and moved her into his hill-perched mansion overlooking a yacht-filled Portofino harbour. Ivie didn't have to wonder why they all seemed so bubbly despite their predicaments. They must have felt her kind of alarm too at some point, she was sure, but with time, the story had helped cushion the depressing effects until they began to wear off and everything started to seem normal again. 
For Ivie, it was different. She felt as if her reality had crashed into a recurring nightmare, each day waking up to find herself imprisoned in an unending loop by her own silly oversight. On the worst days, she woke up with rapid thumping heartbeats. 
She'd wonder how she was so naïve to not have carefully read the contract before signing. She'd ask herself what her gain had been since taking the deal, if any. She'd wonder how many men she had to sleep with before her debt of $50,000 was paid in full. Would she even be able to attract customers to make some money for herself when that was over?
~
One winter night, Ivie, scantily clad, stood under a lamppost outside a deserted park. A cigarette burned between her fingers and faint smoke swirled from her exhale. A heavily built hunk pulled up in a brown Renault and flashed a big smile, revealing a set of crooked teeth. She had hardly settled into the seat beside him when he pulled the terrifying gleam of handcuffs and a pistol on her. 
There was a quick trial the next morning. She had no lawyer present and was hardly given the chance to defend herself. By night, she was escorted onto a small aircraft at Milan Malpensa Airport and spat out into the humid heat and dizzying chaos of Lagos the next morning. From behind expressions of pity, some of scorn, others of apparent lust, people screened her body in her overly revealing crop-top and mini-skirt. 
All dis useless ashawo deportees from Italy, ehn? They said, mostly to themselves, but loud enough for her to hear. Ivie shut it all out with a smile, because although there was a concealed flutter, she was indeed overjoyed to have finally broken out of her hell somehow.
She changed the few notes she had stuffed by a side of her pantie into naira. She didn't have enough to buy a jacket, but this would get her to Benin-City. So, like an under-clothed model strutting the runway at a fashion event, she catwalked her way to a cab, then into a Benin-City bound bus, turning heads every step of the way. 
It was dusk when the bus arrived. She alighted and stretched her tired limbs, heedless of all the many eyes invading and judging her. She cared more about the harmattan haze that was beginning to descend, ridding her body in cold-induced goosebumps.
She picked out a worn and torn MTN umbrella and approached it to make a call. She typed a phone number into the faded keypad of the old Motorola phone she was given and hoped she hadn't mixed up the digits. Her thumb rested on the red button as the dial tone beeped into her ear, almost pressing down on it to end the call when a lady's voice greeted her. She was stopped only by the words: 'You've reached Pastor Papilo Izamoje's phone…'
When his voice came on after a long pause, it lacked the elements of surprise she had expected. He spoke in a hushed tone, asked where she was and recited the address to a nearby hotel. She handed her payment to the call-centre attendant and flagged an okada, off to the hotel.
~
'Madam tell me say you dey enter Naija,' he said when he arrived, clutching phones in both hands and looking sophisticated in a multi-coloured suit. When they hugged, she choked on his cologne, almost breaking into a cough. 
'She say her balance na $46,000, and trust me, that woman no dey play.'
Ivie sat on the bed, legs folded, hugging a pillow and avoiding his gaze. He paced around the small room, his neck shinny from a number of gold chains; his hands from rings on every knuckle; his feet from gleaming black leather shoes. 
Ivie wanted to remind him that he got her into this mess in the first place. When he said, 'If to say you gree to do wetin I want, I for pay her for you,' she changed her mind.
'You mean say if I allow make you do, you go pay $46,000 for me?' Ivie asked, eyes bulging.
'That money na change, babe. If you know how much I dey make every Sunday, fear go catch you. You know say I don become senior pastor?'
'Eh ehn…?' Ivie marvelled, her face melting into a sultry look, assuring him that she was impressed. 
He settled on an edge of the bed and began to blow his own trumpet, working his mouth so much the veins around his neck swelled and throbbed.
He now had his own morning show on TV during weekdays and his church service was broadcast live every Sunday. He had become some sort of celebrity, endorsed by the headquarters as the poster boy for his church. 
'See ehn, after I pay the money for you, just try arrange new passport go start over for America,' he concluded.
Ivie listened to it all with the interest of an attentive student, nodding her bald head slowly to the thoughts building up in her mind.
When it was time for her to take a bath, she paced the tiled floor of the bathroom for several long minutes until he called out to ask if she was fine in there. She responded that she was, turned on the shower, and stepped under it. 
Before he disappeared behind the door of the bathroom when it was his turn to take a bath, she requested for a phone. He said she could have the smallest one in his bunch. She examined it. Satisfied, she nodded and smiled. 
She had turned off some of the lights in the room by the time he returned, leaving only the one directly above the bed. The scene was set, complete with cool music seeping from the TV across the cosy room. They fucked for hours, taking breaks and having a go again; he, oblivious to a blinking red light on the darkened base of the TV, and her, glancing over there the whole time. 
He was gone a little before dawn, leaving her a wad of naira notes. She waited until the sun was up before stepping out to change hotels. Then she sent a video of their lovemaking to his Whatsapp. An accompanying message barked: 'I need that $46,000 more than Madam Agnes. This evening or I'm posting to Linda Ikeji!'
~
Ivie's eyes roamed the length and breadth of Cody's; one of the shops located inside the departure lounge of Muritala Muhammed Int'l Airport. She was observing the different people in the restaurant behind her disguise of a blond wig and heavy makeup, her eyes alert, darting around from table to table, not entirely sure what she was looking for but taking everything in. 
Her ticket stuck out from the gaping mouth of the zipper on the side of her handbag. The bag rested on the fur-carpeted floor, leaning sideways on a leg of the multi-coloured armchair she sat in.
There was a lady to her immediate right, the flowing mass of the lady's full, dark hair shaking in her face as the lady talked and moved her head. She was in conversation with a gap-toothed young man sitting across from her, directly facing Ivie. 
The man smiled and hollowed his cheeks into cute dimples whenever his eyes met Ivie's. The short moments of guilt-laced, wanton longing were shy but deliberate. They made her uneasy, shifting and shuffling in her seat. She crossed her legs. Then she uncrossed them. She tried to avoid his gaze, fixated instead on the lady's hair, tempted to pass a comment about it to unsettle him.
Her lids lifted a little and their eyes met again, just as Madam Agnes' unmistakable, husky voice announced itself. Her eyes widened and her heart rushed into a momentary pause. 
For a long few seconds, the dimpled man's eyes were lost in her gaze, confused at her expression, unable to unlock them from hers. The lady with the flowing dark hair turned around in her seat, an icy sternness crowding the brown of her eyes.
Ivie broke out of her shock at that moment. She dropped her face into the table before her in a frantic dash, almost tipping over her half-full glass of soda and the bottle beside it; the lengthy strands on her blonde wig surrounding and shielding her head. She hadn't seen Madam Agnes but she would recognize that voice even in her sleep. The woman was venting into her phone, her bullish tone ripping into the serenity that floated around the space before she walked in. 
~
Ivie's face sat on the wooden table before her. Beads of sweat formed and broke off from her face into the table. Her legs and hands were riddled with light trembles. Her eyes could trace a line of vision from the table to see the rapid rising and falling of her cleavage. She was almost certain she would get palpitations again. 
There was what seemed like a line of water tracing its way down the wooden leg of her multi-coloured armchair, breaking up and spreading out where it met with the bag resting against it. Ivie had emptied her bladder into the chair in her disorientation.
She had stayed this way for about five minutes, hearing the lady with the flowing black hair argue with the dimpled man, then leave in anger. In that time, her flight was also called twice. She heard it the first time but the panic she was locked in kept her from attempting to get up and proceed for boarding.
She was not sure which petrified her more; Madam Agnes seeing her there after receiving pictures of her being buried a few weeks back, or the strange faces seated around her cringing their noses to the smell of the urine pooled around her buttocks.
When her flight was called the second time, Ivie didn't hear it. Her mind had been too crowded with fear and relative questions. Why was Madam Agnes there, of all places? Why now that she was just minutes away from boarding a plane to a new life. Papi had been pained, but he had seemed willing to part with the money, arrange the passport and papers, and organize a fake burial. Was this his way of getting back at her? 
She sniffed back her tears. The table smelled like an unwashed kitchen sink. She knew she could neither continue to sniff this in nor hold her breath. She reached inwards for all the anger and hatred built up for Madam Agnes, but they were shrivelled, shrunk by the woman's terror of a voice.
 '…this is the final boarding call for Flight MH220 to New York.' The announcer said over the speakers, jolting Ivie back to the dilemma holding her hostage in her multicoloured armchair, urine laden, surrounded by a horde of identical armchairs and unsuspecting sitters.
'Excuse me…'
Ivie raised her head slightly. The dimpled man was standing over her, flashing his gap-teeth. She stole a quick glance at the counter where she thought Madam had been the whole time. There was no woman there. The voice had been silent for a while. Perhaps she left, Ivie wondered.
'I'm Mike…' the young man continued before his broad smile died, leaving his forehead furrowed and the skin around his nose squeezed. His nostrils widened and drew in quick successive sniffs.
Just then, the husky voice rang out again. It was no Madam Agnes. It was a bespectacled, slender man in bright-coloured ankara shirt and trousers standing by the counter.
Ivie lifted herself back to a sitting position, her eyes brightened with shock. Her mouth was stretched agape, and the wig on her head, dishevelled. Her eyes travelled from the counter, around the restaurant, back to the man before her.
'Something smells awful,' he said, still sniffing.
---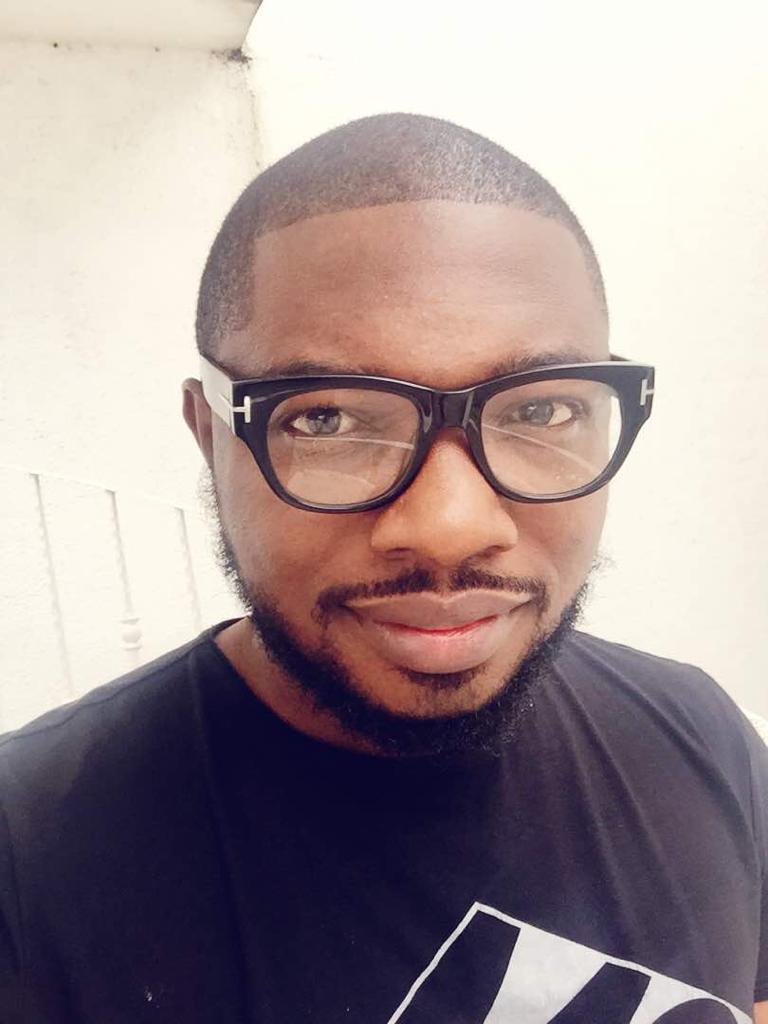 Ibrahim Babátúndé Ibrahim
Ibrahim's works have appeared (or are forthcoming) in Door is a Jar Magazine, Ebedi Review, Sub-Saharan Magazine, Journal of African Youth Literature, Black Muslim Reads anthology, and elsewhere. He also has stories shortlisted for Goge Africa's #GogeAfrica20 Writing Contest and Ibua Journal's Pack Light Series Prize.
He started reading at an early age, influenced by his grandmother's storytelling of African folklore. He picked up his first James Hadley Chase novel at 8; and for the love of stories, was already done with both the Quran and the Bible by the time he was 10.
Ibrahim writes from Ilorin, Nigeria.
Photo by Anugrah Lohiya from Pexels