(after Keith Boykin) 
How do you start a revolution?
does it begin with the blooming of
flowers in the morning sun or when
the fruits of the standing tree begin
to ripen? 
does it begin with the birds singing
sweetly after the first rains have
kissed the earth or does it start
with the passing of the morning
clouds to see the sky make love with
the morning sun? 
does it begin with protests and placards?
media commentaries and mediation contents?
piercing poetry, powerful prose?
facebook posts and fiery postulations? 
does it begin with a priest's call to prayer
or the sprinkling of water at mass?
does it start after your tithes have been paid
and the pastor's hand has been shaken? 
if gandhi, luther and malcolm,
azikiwe and ikoli stirred in their
graves, maybe came back to grace the
earth, would that push you to begin a
revolution? 
if your blood tests came back positive
and the doctor pronounced that you had
three months to live, would you write petitions
to begin that revolution? 
does it take burnt bodies, broken limbs,
orphaned children, dismembered humans,
soot covered babies, or sobbing fathers to
begin the revolution? 
does the revolution begin after you have
mourned friends and your heart has been
broken into many pieces, your soul spent and
your body numb?
does it begin when you lie to sleep at night
and fear becomes the only companion you
know? 
does it start with placards saying
"we're queer, we are here"
or does it begin in the lines of an ancient philosophy?? 
does it begin with the dead turning and twitching
in their graves,
their lips pursed in crooked pain
telling you that the world hereafter
is not milk and dreams but blood and
gore?
does the revolution begin with
the choir singing?
a pastor preaching?
students rioting?
or bodies burning? 
or does it begin with a kiss from judas
to jesus? 
---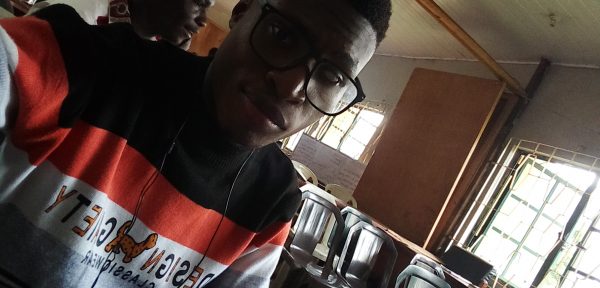 Edaki Timothy
Edaki Timothy is an undergraduate Mass Communication student of the University of Benin in Nigeria. His works have appeared in Kalahari Review, Praxis Magazine, EverGreen Poetry Journal and elsewhere. He was a top entrant for the 2018 Lagos State International Poetry Festival. He spends his time dreaming too much and listening to art from pop singers. Find him tweeting contently @EdakiTimothy.
This entry appeared in The Limits Issue 
Photo by Dorothy Mombrun from Pexels