"I am gathering every dying piece of this body
into a song and gifting it to the wind again,
I am driftwood floating in the sea
drifting
unyielding,
staring into the face of god
daring heaven to shatter me again."
—From "Dead Men" by Boluwatife Afolabi
January 2019
Hours before we see for the first time in three years, I have the strong urge to cancel. I am weary about things going wrong, about how awkward it might be or if you'll decide not to show up at the last minute, just like last time. I am bothered by the time that has passed between us, by the unfamiliarity that exists in a space I once called home. I eventually show up, and so do you. I must admit that time has been kind to both of us, and if life has been brutal at times, it has left no marks on our skins. You are still as beautiful as the first day I saw you, still with that playful smile, still with those ocean eyes. Eyes that always seemed to offer salvation to lost souls. Eyes that drowned me whole. We will eventually see the Greenbook, creating a new memory which I hope you will hold on to, just like I will – out of the periphery of my eyes, I'll watch you bob your head to a tune from the movie, your eyes shimmering with delight. I will let myself wonder about all the things that could have been, all that there is left to hold on to, and for the first time in a long time not having you in my arms will feel just okay, just like it should be, because there is something genuine about your happiness.
I am not ashamed, neither do I regret offering myself up endlessly to you, in the hope that one day you realize that there exists within me a love borne out of the purity and sincerity of my soul, if such exists. A love tied to nothing more than you, not what it is you do, or who you hope to become. In most ways love is suffering, the ability to endure within you a multitude of questioning emotions, the ability to consciously show up each day for promises made, the ability to exist at the edge, the height of human emotions, without falling and drowning in the waves.
*
June 2011
I battled with myself over telling you I was leaving. My mind would slip back to a conversation we had a few months before we started dating, right when the seeds of new love were being sown. You asked if I still had plans to leave like I earlier mentioned, and I remember my answer being one alluding to that ship having sailed. But life shocks you every now and then, and this time it came in the shape of my father getting tired of federal university strikes. So there I was, in a deep green Honda Accord, streaking my way back to Ibadan before the darkness would swallow up the sun, carrying with me "good" news that would certainly mark the beginning of the end of a love my young heart was almost certain was once in a lifetime.
I did eventually tell you in the room I shared with my friends in Independence Hall. I have to admit this to you, that very few moments have left me as utterly broken as that one. To watch someone you love in pain is already an unbearable sight, to be the source of that pain kills you. Eats away at you in ways you know will haunt you forever.
I am eventually able to get you to smile. And you share in my joy just as always. And whisper words of encouragement in ways only you know how to. In ways that make me believe that there truly is something special about what we have found in ourselves. Ways that make me think of a ship, always at sea, but finally with an anchor.
*
2018
I tell myself I know what it means to love. That unlike most I have swam to the end of the river, that I have surrendered all there is to give in my soul, that I have been blessed to have experienced heaven, but today, for the first time since I first said those three words to you, I question if I am wrong, if I have only managed a glimpse of heaven and in my fear of never finding it again, have labeled it, wrongly, my eternity. There are parts of me finally free from you, and there are days I feel my heart quicken, even just a little, when I meet someone with a smile that feels like home, with hands that are gentle as they trace lines against my skin.
That I am finally able to share this story is a sign that finally my heart is ready to find love that exists outside you. That I am ready for a future in which you aren't a shadow lurking behind every smile, that I can finally look into the depths of another soul without confronting your silhouette and my tears; without confronting pain and the nagging sense of regret of having let something ethereal go. I've learnt to accept that love will not always come in the form in which we long for it, that there will be days, months, even years without it. That some of us will depart these shores without finding that "one" who was supposed to complete us. But I maintain, as I always have, that it remains a beautiful life, even when the rain and tears threaten to overwhelm it. And within us there exists a capacity for a love sufficient, a love complete, a love full enough to hold us, to keep us, till the sun collapses and all these cease to matter.
*
May 2019
I scroll through our WhatsApp messages, and there are fragments of us made whole by words, pictures of us, of our nephews – you tell me how amazing it is that our nephews are almost the same age, saying it with an air that suggests this, like most of what we have in common, was always an inevitability, or maybe this is how I have chosen to think about these things. Our conversations twist and move between the rigours of work, and the remarkability of love and family, and sometimes when we let ourselves open, we speak of long lost memories. All this is done with a smile, with a silent devotion to not break ourselves open again – the world and adulthood plays that role perfectly already. It is in the simplicity of these conversations yet the depth of understanding; in how they flow naturally offering us warmth that I know that when we said we loved ourselves, we meant it in a way few will ever understand. In a way, few will ever know.
*
"Kind of girl who's gonna make you wonder, who you are and who you've been"
I remember who I was before I met you: quiet, shy and pessimistic, always walking around with my cup half empty. I believe the reason I have stayed this long, refusing to stray completely from this ocean and the song of its siren is because you brought a light into my life. I think of my meeting you as an awakening, an ideological shift, a change in my perspective of the world around me: that there remains, even with all the exhaustion and withering, beauty that can be grasped and held on to. Truth that can be believed, that can be defended. When you meet someone that makes you believe in things you never believed before, it is hard to let go, to not fight to maintain a connection, a thread, a memory.
Lana sings "happiness is a butterfly", and I remember why this is being written. There is a part of me that will always plead for your return. That will endlessly beg to relive the memories of liquid, blue-sky filled days in Ibadan, with the scent of harmattan and the rust, leaving a taste of forever on the young heart of a boy, making his way down Ijoma road. I still see it in my head, still after so long I can picture it. The road winds out in front of me, there are cracks at the edge where tree roots and erosion have eaten into the asphalt. Nature is not afraid to fight back here, and the branches and leaves make a canopy over my head, allowing a scattering of light on the road. And as I amble down, I think of you.
---
Why am I writing this? That for me is the most important question I have had to ask myself, over and over again, as I worked my way to completing this piece. A lot has been said about love. Many have tried to explain the intricacies of one of life's most compelling and appealing emotions, with a high that can at times surpass that of the most potent drugs. And usually, each explanation of this phenomenon is shaped by the personal experiences of the story-teller. But this, my thesis on love, is not an explanation in any way, but a way of rekindling memory, of distilling the preciousness of simple days currently difficult to find, into a river of words that will not fade. In Boluwatife Afolabi's The Cartographer of Memory, he states the urgency of why we need to document the beautiful, the simple, the ephemeral streams in which the diamonds in us are shaped, sometimes through hardship and loss.
This essay is my acceptance of that mandate, but because of how delicate it is – it concerns a relationship and person that is the bedrock of so many things in my life – I remain apprehensive about it. That I tell this story is important. That I tell it correctly, and to whom I tell it, are even far more important. The beauty of love is that it is formed in the notion that it will abide by truth, it is what makes it so potent. I have tried to paint truth in this essay. I have also subtly shaped it in the form of a letter. Make no mistake about it, I am writing for one person and that is myself. But if I am to stretch truth further, as it can sometimes occur in love for imperfections and excesses to be contained and neutered, I will also say that I am writing it for her.
The essay attempts, as best as memory will allow, a re-shaping of our love, almost a decade old, starting at a time when we were teenagers, freshers at the University of Ibadan. I have to state now that in no way was it all perfection. No, not at all. Even now when I think about it, I feel we were too young to have – although bravely and admirably – embarked on such a treacherous journey. It was always going to end with at least one wounded soul, who might need a lifetime to heal. But I have consciously chosen to not include the bleak moments. This is not done in-order to mislead or to wrongly turn eyes away from the destruction that can bloom out of what we call love. It is done because love is not the absence of pain and shadows but the ability to endure, to persist through it all. Eventually, the beauty of it overwhelms the ugliness it can sometimes exude, banishing them to mere skirmishes at the edge of the grand scheme of things.
The stories are fragmented, cutting across various timelines without a pattern to acknowledge how memory is never linear, not when it is passionate and filled with surrender and freedom. Enjoy.
Segun Agbaje
Lagos, 2019.
---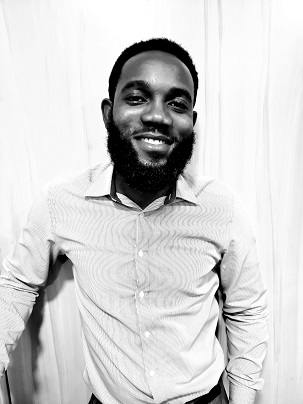 Segun Agbaje is a writer in love with oceans and bridges. He was born in Lagos to Igbo and Yoruba parents and identifies as half-Igbo, half-Yoruba. An avid music fan, he still maintains dreams of going back to school to get a Masters in development economics. 
Twitter: @slick_shegs