---
ISSUE 5 | JULY 2022 | REINCARNATION
---
It would be reassuring for you to have proof that what you're experiencing right now is a dream, like the many you have had since your husband passed. The heaving, the longing and the sadness that fill and swell inside your eyelids like thick fog. You reach under the blanket—your hand knows its way across your body. The nights that came before broke every inch of your love and threw away the debris, every inch of your heart, dumped inside the mouth of your grief. But tonight, what wakes you doesn't seem to want you dead. The night isn't humming around you, the darkness isn't heavy.
So you push your hand farther down, past your navel and place it between your thighs. Nipende leo. Nipende leo ¹, you whisper. The phallic form inside your vulva squirms. With your fingers, you sense wet hair and lips. You look for eyes, but there aren't any. No nose either, just hair and lips. This tenderness feels familiar. He's returned to you. You stroke his hairy body; he squirms and recoils inside. It's really him! So you call out Mpenzi. And almost like a larva, he re-emerges. Ni wewe, Mume? ³. And as a response, he wraps his lips around your middle finger, you push it further in, and your body turns into a live wire. You pull away. Mungu wangu!⁴ This is strange! How can so much pleasure inflict so much pain? You need to steady your breathing, so you try. This is your husband. The last time you felt this way was when he made love to you, how good it felt every time he meant it. Your body still remembers his hairy chest and the cadence of his hips and breathing. Your body remembers him, all the lessons it absorbed from his skin, the hours of drilling and revision. Your body remembers his lessons and all his science by heart. This is him, there's no reason to fear. You stroke his head in a vertical motion a couple of times before taking his entire body in your hand and squeezing. The pleasure stings like a swarm of bees and breaks out of your throat. There's more sucking and now even nibbling on your finger. Your entire being is slowly bending forward, down this declivity, and you want nothing but to let it fall. You didn't know that your hand possessed such power, you didn't know that pleasure could come in that form too, you have never touched yourself like this before. Your husband's body begins to swell between your legs and your hips sway like a body of water. Your eyes roll to the back of your skull, you plunge your teeth inside your lips and fire proceeds out of your flaring nostrils. He is slowly pushing his way out of you. First is his right shoulder. Then his abdomen slithers gradually, and your thighs quiver. By the time his last foot makes it out of you, the pleasure has consumed you in one giant bite. There is water everywhere and your husband crawls on all fours, scurries toward the corner of the room, away from the light and growls.
---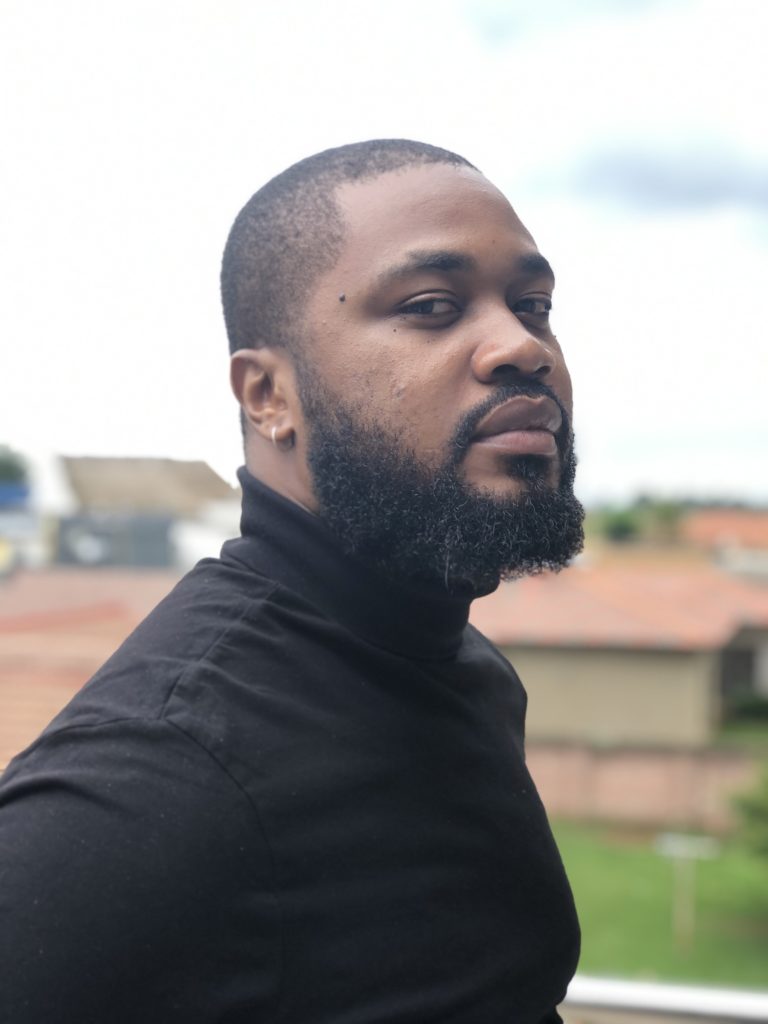 Loic Ekinga
Loic Ekinga is a Congolese writer. He is the author of the poetry chapbook How To Wake A Butterfly, published by Odyssey Books. His works of fiction and poetry have appeared or are forthcoming in Type/Cast Magazine, Ja. Magazine, Poetry Potion, A Long House and Kalahari Review. His experimental mini chapbook Twelve Things You Failed at As A Man Today was an honourable mention by JK Anowe for Praxis Magazine Online. In addition, his short story 'Loop' has been adapted into a short film by Vivanation. He is a finalist of Poetry Africa's Slam Jam competition 2020 and the Fiction Editor for TVO TRIBE.
Photo by Marek Piwnicki on Unsplash